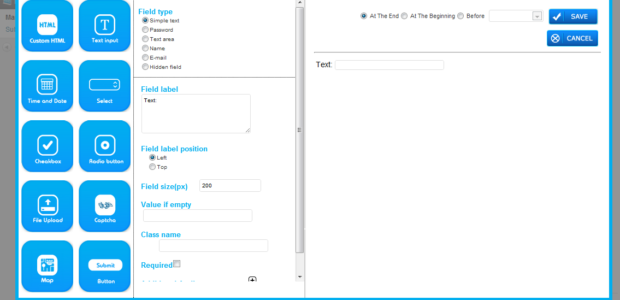 WordPress users can avail coupon code and promo discount on best WordPress Forms plugin to create professional and secured forms in minute. The plugin allows to manage all kinds of form to your website and it works on mobile, tablet and desktop. WordPress forms does not require programming knowledge and lets you to create form in minutes as well as view all your leads in one place to streamline the workflow.
The Gravity Forms is the best tool to create advanced forms of your WordPress to the website. It has features like drag and drop interface, advanced notification routing, lead capture and more. You can easily integrate with variety of third party service and has many new features where you can build and publish WordPress form in minutes. Pre-built WordPress form template can be easily customized and you can also integrate WordPress form with a email marketing service. Customers can get up to 30% off on selected plan using Gravity Forms coupons or promo code on holiday seasons.
Contact Form 7 can handle multiple contact form where you can customize the form and mail contents flexibly with simple markup. It is simple and allows you to add additional field and this plugin more like activate, copy, paste and ready to go one. The contact form 7 is WordPress email form plugin which is used to add contact form. There are many features like multiple contact form, spam prevention, bot prevention with CAPTCHA and customization enabled.
Get the amazing free form creation tool for WordPress from Ninja Forms. It is powerful and build forms within minutes and has drag and drop creator. Beginners can also create complex form without any coding knowledge and there is a complete library of add-on to take your form to new level. The major purpose is used to create contact form, Email subscription form, order forms, payment forms, send emails and more. Avail Ninja Forms coupon codes on selected plans.
It simplifies the managing WordPress sites by giving you visitor stats, security service, speeding up image and more at Jetpack Forms. This plugin sends a automatic reply who fills the jetpack contact form and it has features like where you can create a custom reply message using WordPress WYSIWYG editor, set a unique from name and address for auto replies and include user information in auto reply. You also have options to add placeholder, remove p tags surrounding the text box and more.
The Quform for is a advanced WordPress plugin which allows you to quickly and easily build multiple forms without any coding knowledge. It is a drag and drop feature that works on all major browser and view the submitted form entries inside the WordPress admin. Quform has a unique theming system which has 4 themes with 5 variation for creating your themes. You can also edit the CSS of elements with form builder.
You can create a user friendly WordPress form plugin at Captainform. It is a drag and drop form builder for creating payment forms, order forms, registration form and request, applications, subscription and more. This plug-in requires no add-ons and has all the necessary feature as well as it is integrated with many apps and payment processor GoogleDrive, Dropbox, Salesforce and more. The Captainform allows you to create a fully customizable forms and surveys with more than 30 field types.
There are many professional plugin available with price starting at $39 and also get free trail on some plugin. You can build and publish forms in minutes and there many improved features available. Nowadays, the form builder is made simple and the plugins have beautiful interface. These plugins can be used for bigger sites and it is more customizable.